Acute Pancreatitis Epidemiology Forecast to 2030

DelveInsight has launched a new report on Acute Pancreatitis Epidemiology Forecast to 2030
DelveInsight's Acute Pancreatitis Epidemiology Forecast to 2030 report delivers an in-depth understanding of the disease, historical and forecasted Acute Pancreatitis epidemiology in the 7MM, i.e., the United States, EU5 (Germany, Spain, Italy, France, and the United Kingdom), and Japan.
Acute pancreatitis (AP) is an acute inflammatory condition, with a range of severity as well as various local and systemic complications. According to the National Pancreas Foundation, Acute pancreatitis is an inflammatory condition of the pancreas that is painful and at times deadly. Despite the great advances in critical care medicine over the past 20 years, the mortality rate of acute pancreatitis has remained at about 10%.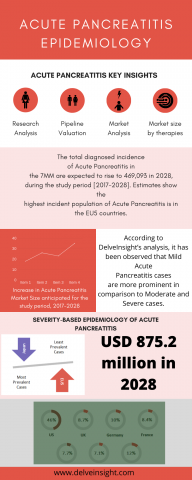 Epidemiology
The Acute Pancreatitis epidemiology division provides insights about historical and current patient pool and forecasted trend for every seven major countries. The Acute Pancreatitis epidemiology data are studied through all possible division to give a better understanding of the Disease scenario in 7MM. The Acute Pancreatitis epidemiology segment covers the epidemiology data in the US, EU5 countries (Germany, Spain, Italy, France, and the UK), and Japan from 2017 to 2030. It also helps to recognize the causes of current and forecasted trends by exploring numerous studies, survey reports and views of key opinion leaders.
Report key facts-
1. The total diagnosed incidence of Acute Pancreatitis in the 7MM are expected to rise to 469,093 in 2028, during the study period [2017–2028]. Estimates show the highest incident population of Acute Pancreatitis is in the EU5 countries.
2. According to DelveInsight's analysis, it has been observed that Mild Acute Pancreatitis cases are more prominent in comparison to Moderate and Severe cases.
3. The most diagnosed incident cases of Acute Pancreatitis were recorded in the EU5 countries followed by the United States.
Some of key companies are working on this disease which are given below-
1. CalciMedica
Name of drug covered on this disease is given below-
1. CM4620
1. Key Insights
2. Executive Summary of Acute Pancreatitis
3. Acute Pancreatitis: Disease Background and Overview
4. Patient Journey
5. Epidemiology and Patient Population
6. Treatment Algorithm, Current Treatment, and Medical Practices
6.1. Acute Pancreatitis Treatment and Management
6.2. Acute Pancreatitis Treatment Algorithm
7. KOL Views
8. Unmet Needs
9. Appendix
9.1. Bibliography
9.2. Report Methodology
10. DelveInsight Capabilities
11. Disclaimer
12. About DelveInsight
Related Reports-
Acute Kidney Injury (AKI) – Epidemiology Forecast – 2030
Acute Pancreatitis (AP) – Market Insight, Epidemiology and Market Forecast – 2028
Media Contact
Company Name: DelveInsight Business Research LLP
Contact Person: Yash Bhardwaj
Email: Send Email
Phone: +919650213330
Address:304 S. Jones Blvd #2432,
City: Las Vegas
State: NV
Country: United States
Website: https://www.delveinsight.com/