New MakeME Happy game on Kickstarter features a heartwarming premise and an engaging gameplay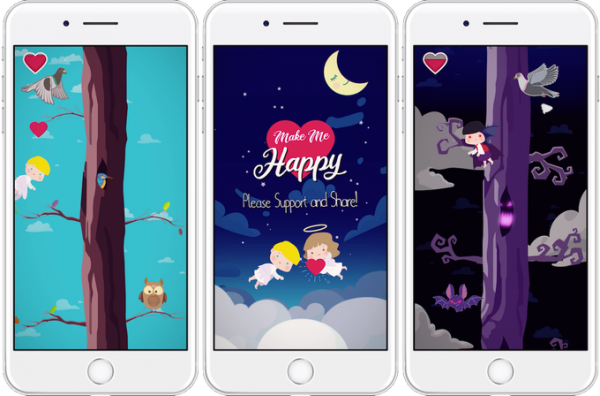 As the name suggests, 'MakeME Happy' is a light-hearted game with an adorable premise. The game is first introduced on Kickstarter and seeks to raise $3000 for the production, development, marketing, and launch on both Google Play and Apple App Store. It is developed by Chris Banciu, a software engineer from San Diego. He quit his job to start developing games and MakeME Happy is his first and dream project that is very close to his heart. "When you know that something has the potential to make you happy, you don't let anything hold you back from it. You do whatever is necessary to get it, to find your happiness", says Chris Banciu.
When Chris started to create this game, he wasn't an expert on coding but he was determined to turn his idea into reality. So he sketched out his ideas on paper and created a beautiful story to show in his game. He developed Erick, as the main character of the game, a child who collects fruits from the Tree of Happiness in order to pass on the love to the Angel who lives beyond the clouds. While playing as Eric, the player has to collect all the fruits while avoiding the evil birds and the poop they drop. The player also has to avoid taking an apple from the Snake as it will turn them into a monster, damaging their ability to collect points on their way up the tree of happiness.
MakeME Happy is a sweet and simple game, which is easy to understand and play yet has the power to keep you engaged for a long time. The game will test the payer's quick reflexes and attention to detail as they avoid the obstacles and try to collect as many fruits as possible to give their love to the angel above them.
The success of the Kickstarter campaign will help Chris to hire a coding professional and cover development costs to get the game to the next level. More information on the game can be found on their Kickstarter.com.
Media Contact
Company Name: MakeME Happy – Campaign
Contact Person: Chris Banciu
Email: Send Email
Country: United States
Website: www.kickstarter.com/projects/chrisbanciu/makeme-happy-simple-game-cute-art