Think Ball President Marcelo Robalinho Gearing Up for Award by the European Academy of High Management
Marcelo Robalinho participara en la ceremonia oficial de entrega de premios en Portugal.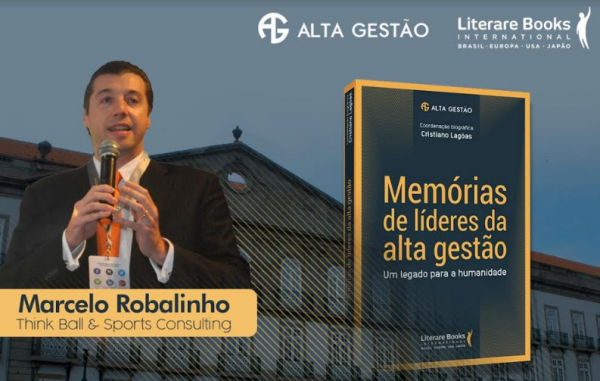 Sao Paulo, Brasil – Marcelo Robalinho es el presidente de la firma Think Ball & Sports Consulting. La empresa brasileña se especializa en la gestión profesional de jugadores de fútbol. Como una forma de apreciar su profunda contribución en la industria del fútbol, Marcelo Robalinho recibirá un premio de la Academia Europea de Alta Gestión en el Palácio das Cardosas en Portugal el 16 de noviembre de 2019. En la misma fecha, allí También se lanzará un libro titulado "Memorias de los Líderes de la Alta Gerencia – Un Legado Para la Humanidad."
"Think Ball opera en gestión profesional y recibir un premio de la Academia Europea de Alta Gestión es indicativo de que brindamos nuestros servicios de manera calificada y eficiente. Estamos orgullosos de saber que, además del premio, tendremos oportunidad de dejar un legado con nuestra colaboración en el libro", dijo el portavoz de Think Ball.
Los servicios de Think Ball en el mercado mundial de fútbol abarcan más de dos décadas. Los servicios excepcionales proporcionados por Think Ball durante tanto tiempo no son en vano y su sudor no ha pasado desapercibido. De hecho, les ha valido un reconocimiento significativo por parte de la Academia Europea de Alta Gestión.
Think Ball es una de las pocas compañías de consultoría deportiva de confianza que se enorgullecen de ver a sus clientes tener éxito. La compañía va más allá, brindando a cada cliente una representación integral para brindarles el apoyo necesario que los llevará al éxito.
La ceremonia de gala en la ciudad portuguesa honrará a los nuevos miembros de la Academia. También marcará el lanzamiento del libro que es un trabajo biográfico que registrará la trayectoria de Robalinho y otros líderes empresariales a través de sus experiencias, aprendizajes y desafíos. en la vida corporativa, con el propósito de dejar un patrimonio intelectual a la sociedad.
Además de la biografía del presidente de Think Ball, otras personas que ya han sido biografiadas incluyen ejecutivos de compañías como Microsoft, Google, Samsung, Volkswagen, Coca-Cola, Walmart, Oracle, SONY Music, LG, MetLife, TAP Air Portugal, KPMG, Delloite, Gol, Itaú, EY, Natura, TAM, entre otros.
La Academia Europea de Alta Gestión, fundada en 2001, es una sociedad erudita dedicada al avance de la disciplina académica de la gestión en Europa.
Media Contact
Company Name: Think Ball & Sports Consulting
Contact Person: Marcelo
Email: Send Email
Country: Brazil
Website: http://www.thinkball.eu/