Steve N' Chris drops 'The Remix Kingz Volume 1,' a fresh take on today's chart-topping hits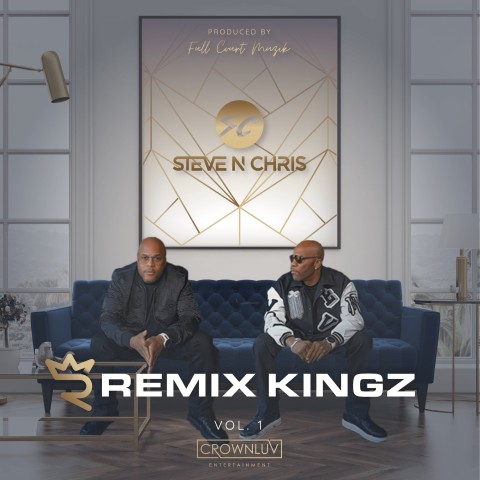 CrownLuv Entertainment is proud to announce the release of the latest album by hip-hop duo Steve N' Chris—The Remix Kingz Volume 1. This new collection features remixes from some of today's hottest tracks that not only do justice to their source material but elevate them into something entirely unique. With this project, these artists want to prove timelessness translates through generations, creating mesmerizing tracks worth immersing into.
Produced exclusively for CrownLuv Entertainment by Courtney Hamilton at Full Court Muzik studio based out of Fort Lauderdale, this album uses live instruments combined with technology providing professional clarity while presenting its audience with heart-stirring rhythms flowing effortlessly one track after another. It includes their latest single which features Courtney Hamilton and delivers a powerful message against trafficking through its impactful lyrics, deep rhythms, and smooth melody. The vocals are confident and strong, adding to the overall appeal of the track.
As talented musicians with raw lyrical prowess, Steve Hall and Chris Lord, who also happen to be blood brothers, have been making music for over two decades, showcasing their powerful works to audiences worldwide by representing hip-hop culture perfectly while staying true to artistic integrity.
"We wanted to show the world we can hang with the big boys by creating these remixes that are even better than some of today's biggest hits," said Steve N' Chris.
Listeners will be inspired and impressed as they listen to fresh new interpretations of hit tracks, such as God DID, SuperHero, Jimmy Cooks, Gotta Move On, and other notable numbers. These reimagined songs have a unique twist built on top that adds an entirely refreshing element enriching existing music lovers while seducing new hip-hop audiences too!
In addition to their prolific musical careers in hip hop and RnB genres, they also pursue social causes.
The Remix Kingz Volume 1 is now digitally available on all major platforms like Apple Music for download or streaming services, where it joins their impressive catalog.
For more information about Steve N' Chris's latest release, follow them on Instagram at @the.realstevenchris.
About Steve N' Chris
Steve Hall and Chris Lord are two talented hip-hop and RnB artists who make up the duo, Steve N' Chris. This dynamic band's musical career spans decades providing heart-stirring rhythms flowing effortlessly one track after another, delivering what both old-school listeners and new-age tastes will find alluringly exciting to listen to on a loop!
And with the release of their latest album, The Remix Kingz Volume 1, Steve N' Chris is set to prove that music knows no boundaries when experimenting with today's hits by making them even better. They collaborated with renowned producer Courtney Hamilton at Full Court Muzik studio, offering their fans professional clarity and a fresh twist built into each remix.
Media Contact
Company Name: CrownLuv Entertainment Inc.
Contact Person: Json Crown
Email: Send Email
Phone: 754-266-0042
Address:10100 West Sample Rd
City: Coral Springs
State: FL 33065
Country: United States
Website: www.CrownLuvEnt.com