Revenue From Operating Room Integration Services to Surpass USD 3,464.7 Million by 2030, Forecasts P&S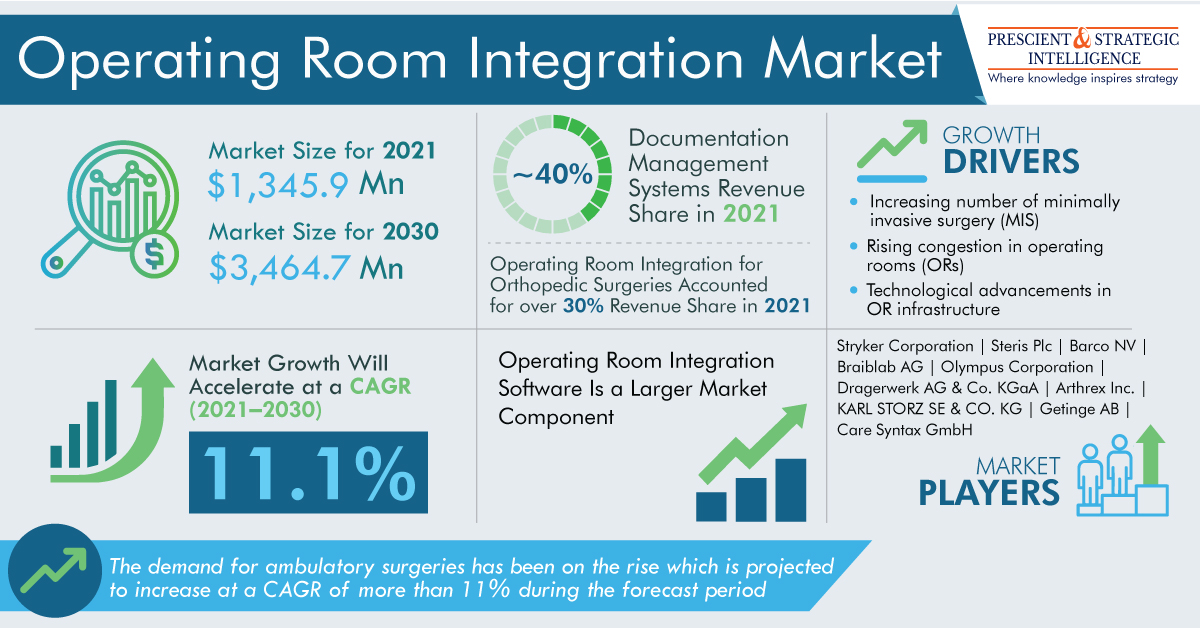 The Asia-Pacific operating room integration market is likely to have a growth rate of more than 12% in the coming years. The swift improvement in healthcare infrastructure and a sharp rise in the population of chronically ill patients are the key factors contributing to the growth of the regional market.
Market research firm P&S Intelligence stated the major factors driving the global operating room integration market are the skyrocketing investment for improving the operating room (OR) infrastructure, swift adoption of technologically advanced devices, and rising congestion in ORs. In 2021, the revenue of the global market stood at USD 1,345.9 million, and it is predicted to touch USD 3,464.7 million by 2030, witnessing an 11.1% CAGR. Moreover, there is an inclination of patients toward minimally invasive surgeries (MIS) on account of their economic aspect, minute incisions, shorter duration, and quick recovery.
The integration of artificial intelligence and digital technology will spur the operating room integration market growth. For example, an ecosystem of interconnected ORs is being evolved by Proximie. This offers assistance to clinicians by using AI for incisions, as well as allowing for real-time analysis, data, and diagnostics. Furthermore, this platform assists healthcare experts not only in developing technical expertise, proctoring, and surgical mentoring but also in communicating with any connected OR globally. However, the outbreak of COVID-19 had decreased the investments in ORs globally.
Get the sample pages of this report: https://www.psmarketresearch.com/market-analysis/operating-room-integration-market/report-sample
Within the component segment, the market can be bifurcated into services and software. In 2021, the latter category held the bigger share in the market. This can be attributed to the benefits of operating room integration software, including better patient safety, enhanced communication among healthcare providers, and up-to-date surgical workflow, as it is an all-in-one necessary information source. Therefore, healthcare corporations are gradually spending on OR integration. For instance, the management stakeholders in BNV and Marubeni invested in OPExPARK, to digitally transform ORs and offer a surgical training platform.
Documentation management systems are rather popular in various ambulatory surgical centers and healthcare centers, which is why this system type category accounts for approximately 40% global operating room integration market share. This can be ascribed to the rising incidence of diseases and, consequently, the surging patient population, which, in turn, increases the size and count of medical records. For example, an approximately 5% increase was observed in the total count of in-patients in 2021 over the previous year in Norway.
Within the application segment, general surgery will generate high revenue in the operating room integration market in the coming years. General surgeries are conducted on a bast array of body parts, including the endocrine system, soft tissue, skin, breast, abdomen, and its contents, as well as the esophagus and related organs. Moreover, the rising prevalence of liver cancer, endocrine disorders, and breast cancer will exert a push on the count of general surgeries performed globally. Thus, approximately one-third of the market share was held by the category in 2021.
Browse full report at: https://www.psmarketresearch.com/market-analysis/operating-room-integration-market
Geographically, North America held the dominating share in the operating room integration market in 2021, of at least 40%. This can be credited to the existence of prominent healthcare technology companies, surging requirement for quality care, and rising inclination toward MIS among patients. In addition, the APAC market will gain momentum in the forecast period at a 12% CAGR owing to the surging incidence of chronic diseases and, subsequently, the rising count of patients undergoing a surgery.
Hence, the snowballing population, coupled with the rising prevalence of chronic illnesses, will provide lucrative opportunities to the market players.
Global Operating Room Integration Market Size Breakdown by Segment
By Component
By System Type
Documentation Management Systems
Display Systems
Audio-Video Management Systems
By Application
General Surgery
Orthopedic Surgery
Neurosurgery
By End User
Hospitals
Ambulatory Surgical Centers
By Region
North America
Europe

Germany
France
U.K.
Italy
Spain

Asia-Pacific

China
Japan
Singapore
Australia
India

Latin America
Middle East and Africa
Browse More Reports Published by P&S
Surgical Navigation System Market Size and Share Analysis by Technology, Application, End User – Industry Growth and Forecast Report
Surgical Simulation Market Size and Share Analysis by Offering, End User – Industry Development and Demand Forecast Report
About P&S Intelligence
P&S Intelligence is a provider of market research and consulting services catering to the market information needs of burgeoning industries across the world. Providing the plinth of market intelligence, P&S as an enterprising research and consulting company, believes in providing thorough landscape analyses on the ever-changing market scenario, to empower companies to make informed decisions and base their business strategies with astuteness.
Media Contact
Company Name: P&S Intelligence
Contact Person: Abhishek
Email: Send Email
Phone: +918887787886
Address:Noida Sector 2
City: Noida
State: UP
Country: India
Website: https://www.psmarketresearch.com/market-analysis/operating-room-integration-market