The SCADA market is currently growing at a rate of 7.6% annually, and is expected to reach $13.2 billion by 2026.
SCADA Market size is expected to reach USD 13.2 billion by 2026 from USD 9.2 billion in 2021, at a CAGR of 7.6% from 2021 to 2026.
According to the new market research report "SCADA Market with COVID-19 Impact by Offering (Hardware, Software, Services), Component (Programmable Logic Controller, Remote Terminal Unit, Human‒Machine Interface, Communication System), End User, and Region – Global Forecast to 2026", the global SCADA market size was valued at USD 9.2 billion in 2021 and is projected to reach USD 13.2 billion by 2026; it is expected to grow at a CAGR of 7.6% from 2021 to 2026. The key factors fueling the growth of this market include increased adoption of Industry 4.0 solutions using SCADA systems, high demand for industrial mobility solutions for efficient management of process industry, use of software platforms such as IoT and artificial intelligence and rising importance for infrastructure management in terms of building automation.The rising demand for IoT in various devices in several verticals such as oil & gas, pharmaceuticals, chemicals. food and beverages and others is expected to drive the market of SCADA systems during the forecast period.
– Informational PDF Brochure :-https://www.marketsandmarkets.com/pdfdownloadNew.asp?id=19487518
Browse more than 150 tables, 85 figures, and in-depth TOC on the "SCADA Market" report. Early buyers will receive 10% customization on the report.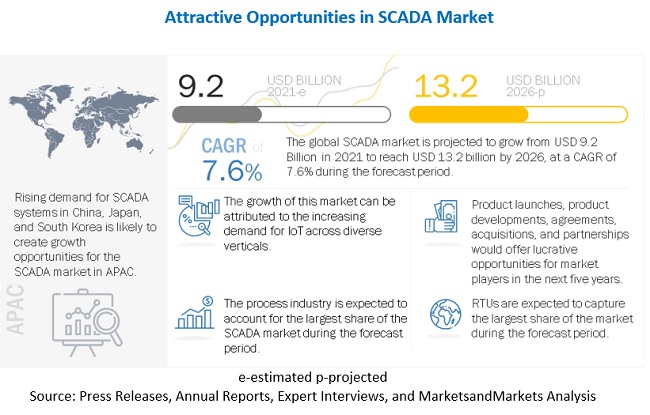 Services offering accounted for largest size of the SCADA market in 2020.
The services segment accounted for the largest share of the SCADA market in 2020. Many of the industries in the Americas and Europe have already implemented SCADA systems. Thus, there are fewer opportunities in terms of the implementation of new SCADA systems. However, in terms of modification of SCADA systems, there are huge opportunities. This is because over a time span, SCADA system becomes outdated and falls out of manufacturer support. This can lead to more unplanned downtime when issues occur and higher risks for cyber-attacks.Thus, acquiring service support for outdated or unsupported SCADA system becomes a good investment for operator than having a whole new SCADA system which costs ample amount. After the installation of SCADA systems, organizations need proper modification and maintenance throughout the life of SCADA systems. Service offerings, especially cybersecurity, are considered while customizing or modifying SCADA systems. Also prioritizing service support to optimize assets' performance and overall production is also trending since more importance is been given to quality and timely outputs.
Porcess industry is expected to hold the largest size of the SCADA market in 2021.
The rate of adoption of SCADA systems is high in process industries owing to the rising pressure on manufacturers to optimize the cost and production processes. Increasing demand for real-time visibility of complex operations in industries such as oil & gas, chemicals, pharmaceuticals, metals and mining, and food & beverages is expected to drive the demand for SCADA systems in the process industry. With a SCADA system, manufacturers are able to collect and analyze real time production data, monitor and manage alarms, and program automatic control responses triggered by certain events or system parameters during the manufacturing and production processes. These systems are also capable of automating and controlling the industrial as well as other production and manufacturing related process which is hardly possible by the manual or human-based systems.
APAC projected to grow at the highest CAGR of SCADA market from 2021 to 2026.
APAC is projected to hold the largest share of the SCADA market during the forecast period. APAC has the strongest manufacturing and production base for every vertical may it be industrial, food & beverage and so on. APAC is the production hub for automation technologies due to the presence of major companies such as Yokogawa Electric, Mitsubishi Electric, and OMRON. Renewable energy, smart grids, water & wastewater, and transportation sectors are expected to drive the growth of the SCADA market in APAC. Furthermore a paradigm shift towards automation of processes and finding novel ways for monitoring, controlling and evaluating manufacturing and production activities as well as tracking other related processes will transform the nature of opportunities in the region. This is because automation is increasing in APAC. A rising necessity for high-quality products, along with increased production rates has been driving the automation trend which is ultimately fueling growth of SCADA systems market in APAC.
Schneider Electric, Emerson Electric, Rockwell Automation, ABB, Siemens, Honewell International, and Mitsubishi Electric, among others, are some of the key players offering SCADA systems.
Study Coverage
This research report categorizes the SCADA market based on offering, component, end user, and region. This report describes the drivers, restraints, opportunities, and challenges influencing the growth of the market. The value chain analysis, technology analysis, case study analysis, patent analysis, ecosystem analysis, pricing analysis, and the competitive landscape of the market leaders have also been included in the report.
"Brief information on the research methodology for the report can be found in the report description provided on the website."
Media Contact
Company Name: MarketsandMarkets™ Research Private Ltd.
Contact Person: Mr. Aashish Mehra
Email: Send Email
Phone: 18886006441
Address:630 Dundee Road Suite 430
City: Northbrook
State: IL 60062
Country: United States
Website: https://www.marketsandmarkets.com/Market-Reports/scada-market-19487518.html