Essential Oils Market Is Predicted To Witness A CAGR of 7.4% in Terms of Revenue By 2028, Driven By Increasing Inclination of People Towards Aromatherapy | Grand View Research, Inc.
According to a new report published by Grand View Research, the global essential oils industry is anticipated to grow based on rising consumer awareness regarding natural & organic personal care products and food & beverages which have forced the manufacturers to shift their focus from synthetic to natural products.
Essential Oils Industry Overview
The global essential oils market size was valued at USD 18.6 billion in 2020 is estimated to reach USD 35.5 billion by 2028, at a compound annual growth rate (CAGR) of 7.4% in terms of revenue from 2021 to 2028.
The market is expected to be driven by increasing demand from major end-use industries, such as food and beverage, personal care and cosmetics, and aromatherapy. Unlike most conventional medicines and drugs, essential oils have no major side effects. Such traits of the product are projected to be the major driving factor for market growth.
Gather more insights about the market drivers, restrains and growth of the Global Essential Oils Market
Increasing consumer awareness regarding natural and organic personal care products and food and beverages has forced the manufacturers to shift their focus from synthetic to natural products which have acted as one of the major forces impacting the global essential oils market. Several health benefits related to essential oils are projected to drive their demand in pharmaceutical and medical applications.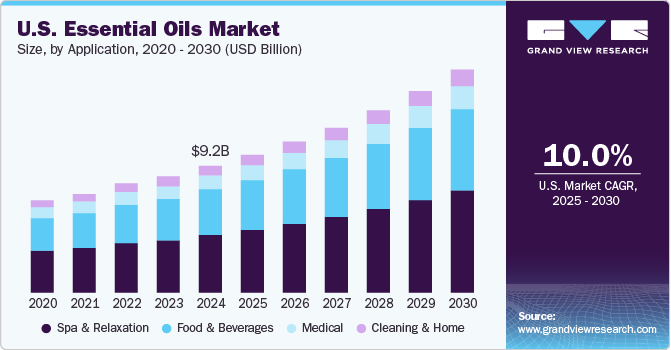 Rising demand for organic products is another factor influencing consumer trends. Further implementation of regulations favoring the use of environmentally friendly ingredients in the cosmetics and food and beverage industry has awakened people's interest to seek products made from natural ingredients. The industry has witnessed a sharp increase in demand for 100% plant-based products that are devoid of synthetic fragrances and animal-derived components. As a result, the majority of the population is turning to organic products to gain health benefits.
Key raw material suppliers include Essential Oils Company, Kao Chemicals, The Fragrance Foundation, The Chemical Company, and Phoenix Aromas and Essential Oils, LLC. Companies such as Biolandes, India Essential Oils, Young Living Essential Oils, and others have integrated their operations to provide raw materials as well as manufacture the final product in order to cut down on raw materials procurement and operation costs. This also helps companies to cater to the other industries served by the raw materials such as perfumes and deodorants and food and beverages.
Rising demand for oranges, lemon, corn mint, and other similar crops owing to the increasing population is expected to push prices even higher over the forecast period. Global water scarcity, natural disasters, and other factors created a food shortage in recent years leading to high prices for basic commodities and crops. Prices of other plants and crops have increased tremendously in recent years owing to supply shortfall, climate changes, overpopulation, and decreasing arable land leading to higher oil prices. Consumers are increasingly being pressurized to shell out massive amounts per ounce of oil to gain the benefits of these products.
Essential Oil Market Segmentation
Based on theProduct Insights the market is segmented into Orange, Tea Tree, Lemon oil, davana oil, Acorus Calamus, Ajowan, Basil, Black pepper, Cardamom, Carrot Seed
The orange oil segment dominated the market for essential oils and accounted for a revenue share of 9.5% in 2020. This is attributed to its usage for improving low libido, lowering PMS-related health problems, and fighting hypertension on account of its blood-dialing property.
Lemon oil is expected to witness considerable growth over the forecast period due to its usage in detergents, perfumes, and soaps and can also be blended in DIY household cleaners. It is primarily used as a detoxifying agent and disinfectant for treating sore throats and flu.
The davana oil segment is anticipated to witness the highest CAGR of 16.9% in the coming years. This is attributed to its extensive utilization for producing natural perfumes and flavoring agents. Antiviral, stimulant, nervine, and antiseptic properties of the oil make it suitable for use in various medical applications.
Based on the Application Insights the market is segmented into Medical, Food & Beverages, Spa & Relaxation, Cleaning & Home
The food and beverage segment is projected to witness the most significant CAGR over the forecast period. This is attributed to the growing focus of food and beverage manufacturers on increasing product shelf life without compromising the quality
The spa and relaxation segment dominated the market for essential oils accounted for the largest revenue share of 46.4% in 2020. This is attributed to the increasing number of consumers are visiting spa centers for aromatherapy and massage purposes to rejuvenate physically, emotionally, mentally, as well as spiritually.
Medical emerged as one of the most significant application segments of the market in 2020. The segment is projected to witness growth over the coming years owing to the increasing application scope of essential oil and floral extracts in the medical sector.
Based on the Sales Channel Insights the market is segmented into Direct Selling, Others
The direct selling segment accounted for a revenue share of 44.0% in 2020. Increasing awareness among people regarding essential oil has given rise to more retail sales, especially through convenience stores.
Furthermore, most of the importers and wholesalers have launched websites for online sales, along with their existing over-the-counter sales. Distribution channels for selling the products are likely to become complex as some sellers focus purely on online sales to increase their geographic reach.
Based on the Regional Insights the market is segmented into North America, Europe, Asia Pacific, Central America, Middle East & Africa
Europe dominated the market for essential oils and accounted for the largest revenue share of 49.2% in 2020. The region is predicted to dominate the market in the coming years.
Asia Pacific is expected to witness the highest CAGR of 8.4% in the market for essential oils over the predicted years. This is attributed to suitable weather conditions for agriculture, low-cost labor, and ample availability of raw materials.
In the Middle East and Africa, the market for essential oils has been observing remarkable growth since the past few years owing to increasing local demand for these oils. The demand for consumer goods is directly related to the growing population and rising standard of living.
Market Share Insights
June 2022: Firmenich-DSM Merger to Create Sector Giant, The new entity, to be called DSM-Firmenich, will aim to blend the two participants' respective strengths, DSM's in biotechnology and nutrition and Firmenich's in molecular engineering and flavors and fragrances.
Key Companies Profile:
Companies are focusing on upgrading their production technologies to minimize resource consumption and maximize output. Improved profitability through optimizing the value chain and re-structuring the business process are major strategies focused upon by market players. Companies undertake pilot projects for cultivating crops that are not previously grown in the field to obtain innovative raw materials for the development of new solutions.
Some of the prominent players in the essential oils market include:
Takasago International Corporation
Symrise
MANE
Flavex Naturextrakte GmbH
Firmenich SA
Synthite Industries Ltd.
ROBERTET GROUP
International Flavors & Fragrances Inc.
Givaudan
Falcon
Norex Flavours Private Limited
BMV Fragrances Pvt. Ltd.
VedaOils
MOKSHA LIFESTYLE PRODUCTS
Ultra International
VidyaHerbs
Order a free sample PDF of the Essential OilsMarket Intelligence Study, published by Grand View Research.
About Grand View Research
Grand View Research is a full-time market research and consulting company registered in San Francisco, California. The company fully offers market reports, both customized and syndicates, based on intense data analysis. It also offers consulting services to business communities and academic institutions and helps them understand the global and business scenario to a significant extent. The company operates across multitude of domains such as Chemicals, Materials, Food and Beverages, Consumer Goods, Healthcare, and Information Technology to offer consulting services.
Web https://www.grandviewresearch.com/
Media Contact
Company Name: Grand View Research, Inc.
Contact Person: Sherry James, Corporate Sales Specialist – U.S.A.
Email: Send Email
Phone: 1888202951
Address:Grand View Research, Inc. 201 Spear Street 1100 San Francisco, CA 94105, United States
City: San Francisco
State: California
Country: United States
Website: https://www.grandviewresearch.com/industry-analysis/essential-oils-market