Dogeone: The Next Big Meme Coin Dogecoin & Shiba Fans Are After
Dogeone is inspired by Elon's Moon Mission which will commence anytime in the first half of 2022.
Many might be curious about what happened to Elon's Dogecoin-funded satellite. Doge-1 is Elon's Moon Mission which will commence anytime in the first half of 2022. The Dogecoin cryptocurrency will be creating history by going to the moon with the help of Elon's SpaceX. With this initiative, the use of cryptocurrency will extend beyond Earth. It will lay the foundation for interplanetary commerce. The move of Dogecoin to the moon will open up new avenues for the crypto world.Inspired by the mission DOGE-1, a cryptocurrency named DOGEONE has emerged and looks pretty bullish on the production.
Dogeone, a Binance smart chain-based cryptocurrency with light-speed transactions and less gas fee, is on in its launch stage. Dogeone stands out from other doge followers with a number of use cases such as Charity, Holder Rewards, GameFi, and NFTs. Elon's tweet about the launch of the DOGE-1 mission might boost the marketing reach of this cryptocurrency to the moon.
Dogeone's exclusive pre-sale is live now on Pinksale's Launchpad (visit their website for the presale link). In terms of security, the team has doxxed themselves with various platforms, locked 100% of the remaining tokens, and the liquidity will be locked on launch. This is the highest form of security a token can provide.
"With this collaboration between artwork and Blockchain, the Dogeone team will be bringing out NFTs. It will ensure that artwork becomes affordable for everyone and can reach everyone. MEMEs and DOGEs will be brought together using the NFT platform. Any individual with an artistic bent of mind can show their NFTs and get rewards," said a spokesperson for Dogeone.Dogeone is inviting doge enthusiasts to collaborate and work as a network to achieve bigger targets like funding space missions.
In the near future, Dogeone is also inviting space lovers to contribute to a real cause. They want people to join the World's first debris removal donation. The team also enables the users to contribute to the welfare of dogs.
For more details, visit:
Website : Missiondogeone.com
Telegram : t.me/missiondogeone
Twitter: twitter.com/MissionDogeOne
About Dogeone:
A space-themed cryptocurrency with a vision to become the one-stop platform for all Doge NFT enthusiasts and investors on the blockchain. Dogeone's production pipeline includes DogeNFTs, DogeSwap, Staking Platforms, and much more.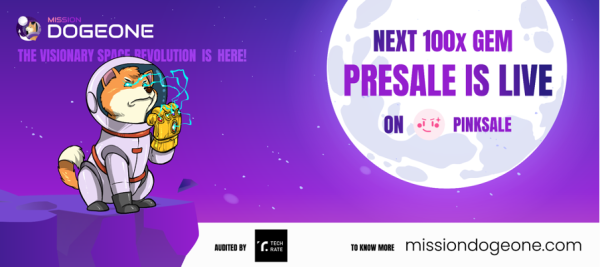 Media Contact
Company Name: DOGEONE CRYPTOCURRENCY TOKEN
Contact Person: Stephen Rixon
Email: Send Email
City: New Milton
State: Hampshire
Country: United Kingdom
Website: missiondogeone.com