Graphene Market Latest Trends and Business Scenario Through 2030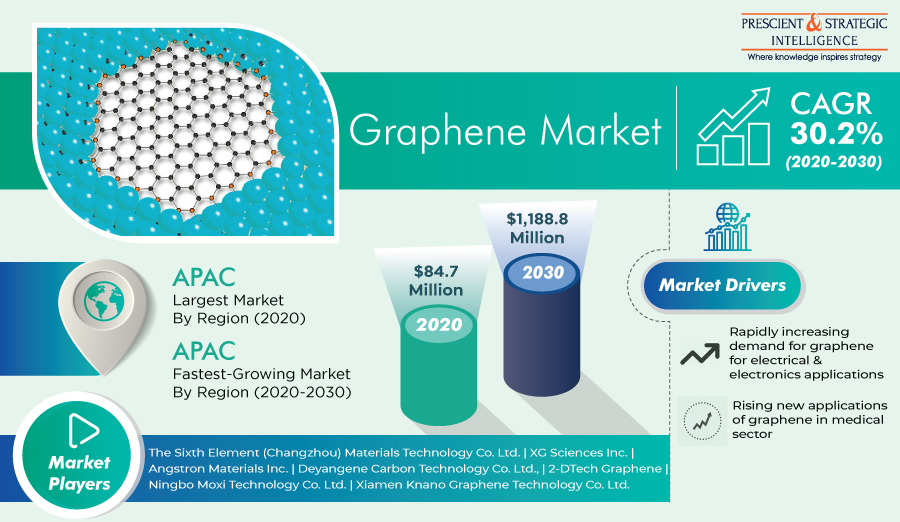 Geographically, Asia-Pacific is projected to account for the largest share in the graphene market in coming years. This can be mainly attributed to the rising applications of graphene, such as composites, electrical & electronics, and biomedical, particularly in developing nations, such as China and India.
Graphene, an allotrope of carbon, finds largescale applications in the electrical and electronics sector, which is attaining new heights of prosperity due to the growing penetration of consumer electronics. Graphene is extensively used in print circuits, transistors, and microchips, owing to its high electrical conductivity and exceptional strength. In contemporary times, the usage of this carbon allotrope has substantially increased, owing to the surging demand for flexible devices due to the unique ability of graphene to allow devices to be folded and rolled as per the requirement.
Besides, the widening application base of graphene in the medical sector will also drive the graphene market at a robust CAGR of 30.2% during 2020–2030. The market revenue stood at $84.7 million in 2020 and it is expected to reach $1,188.8 million by 2030. Owing to its thinness and excellent strength, graphene is ideal for the development of bioelectric sensory devices that are used to monitor cholesterol, glucose, and hemoglobin levels. Graphene is also used in the treatment of cancer cells, and for the development of therapeutic tools, dental implants, and prosthesis devices.
Request for sample pages of this report: https://www.psmarketresearch.com/market-analysis/graphene-market/report-sample
In recent years, there has been a significant surge in the commercialization of graphene, due to the increasing research and development (R&D) activities that aim at exploring new application areas of this form of carbon and the rising availability of graphene. Additionally, the ongoing efforts being made to increase the usage of graphene in sports goods, digital displays, automotive coatings, and conductive inks have also led to the rapid commercialization of this compound.
The form segment of the graphene market is classified into dispersion, powder, and others, such as graphene flakes, graphene oxides, and graphene sheets. Under this segment, the powder category generated the highest revenue during the historical period (2015–2020), and it is also projected to retain its dominance during the forecast period (2021–2030). The leading position of this category can be owed to the high preference for powdered graphene in sensors, storage batteries, and printing technologies.
Currently, graphene-producing companies are unveiling new products to reach out to a greater number of customers. For instance, in March 2020, ZEN Graphene Solutions Ltd. launched Albany Pure graphene to introduce graphene-based products such as graphene oxide, graphene quantum dots, and graphene oxide. Other enterprises coming up with new products include Applied Graphene Materials plc, Vorbeck Materials, Xiamen Knano Graphene Technology Co. Ltd., NanoXplore Inc., Deyangene Carbon Technology Co. Ltd., and The Sixth Element (Changzhou) Materials Technology Co. Ltd.
Browse detailed report on Graphene Market Size, Share, Growth and Demand Forecast to 2030
According to P&S Intelligence, the Asia-Pacific (APAC) region accounted for the largest share in the graphene market in 2020, and it will also continue witnessing this trend throughout the forecast period. The dominance of the region can be credited to the increasing disposable income of people in regional nations and the widening application bases of this form of carbon in the automotive and electrical and electronics industries of India, China, and other Southeast Asian (SEA) countries. Also, automakers and electronics companies are increasingly using graphene in composite materials, which are used for lightweight vehicles and electronic devices, respectively.
Therefore, the booming electrical and electronics sector and the surging need for medical devices will accelerate the production of graphene in the forthcoming years.
Graphene Market Size Breakdown by Segment
By Form
Powder
Dispersion
Others (Including Graphene Oxides, Graphene Flakes, and Graphene Sheets)
By Application
Electrical & Electronics
Composites
Energy
Biomedical
Others (Including Paints & Coatings, Optics, and Water Filtration)
By Region
North America Graphene Market

By form
By application
By country – U.S. and Canada

Europe Graphene Market

By form
By application
By country – Germany, Spain, U.K., Italy, and Rest of Europe

Asia-Pacific Graphene Market

By form
By application
By country – China, India, Japan, South Korea, and Rest of APAC

Rest of the World Graphene Market

By form
By application
By country – Brazil, Turkey, and Others
Browse More Reports
Polypropylene Market – Geographically, the Asia-Pacific region accounted for the largest share in the polypropylene market in 2020, and it is expected to retain its dominance in the forecast years as well. This can be attributed to the surging government expenditure on research and development of new polypropylene applications and the increasing consumption of flexible food packaging materials and electrical components in the region. Additionally, the presence of prominent players also contributes to the market growth in the region.
3D Printing Construction Market – Globally, the Asia-Pacific 3D printing construction market generated the highest revenue in 2020, and it is expected to demonstrate the fastest growth in the forecast years. This can be credited to the soaring number of buildings being constructed through sustainable methods, increasing number of manufacturing units, and rising research and development activities. Additionally, the strong presence of numerous construction companies also contributes to the market growth in the region. Among APAC countries, Japan and China hold immense growth potential for emerging technologies such as 3D printing for construction.
Media Contact
Company Name: P&S Intelligence
Contact Person: Abhishek
Email: Send Email
Phone: +918887787886
Address:Noida Sector 2
City: Noida
State: UP
Country: India
Website: https://www.psmarketresearch.com/market-analysis/graphene-market